We pride ourselves in providing a focused and dedicated service around you. Your wedding day is unique and we recognise that in the service we provide. Sometimes it is the simple touches that make the difference, giving you the comfort of knowing that we are focused on you, your day and our part within it. Your wedding is not just another job for us, it is an opportunity for us to help make something special.


We provide the following as part of our service to you at no extra cost and we're happy to discuss anything else you may want to add to your enjoyment.
Floral Touches
We dress our cars with fresh flowers for every wedding, no dustly silk arrangements curling on the parcel shelf.
These come as a simple white arrangement or can be colour coded to your requirements. Believe us, the smell of fresh cut flowers and the leather interior of our cars is wonderful.
Complimentary Champagne
For the Bride and Groom we provide champagne for the trip from the ceremony to the reception.
A chance to celebrate those first few minutes of marriage for the two of you.
Ribbons
We traditionally use a white or ivory bonnet ribbon but have lots of colours which can co-ordinate with your colour scheme.
Vehicle Preparation
Our cars are constantly kept at a high standard of apperance however all have a minimum of 4 hours cleaning and polishing for each and every wedding to ensure they look immaculate. We also carry everything we need to ensure that they stay that way throughout the day.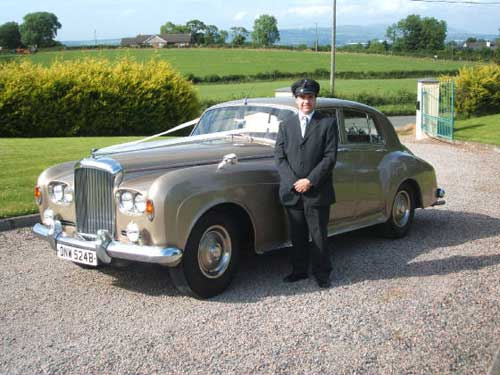 Uniformed Drivers
As standard our drivers wear traditional suits, formal tie and of course a peaked cap.
Photos and Visits
We provide the cars to you for the day and we're happy to accomodate stops for photographs at anytime. In addition we make the cars available for photographs after your arrival at the reception venue.
We're also happy to make stops to visit with relatives who are unable to make it to the ceremony or reception.
Our Business Philosophy
- We do this because we enjoy it!
We started this company as a business but we also love these old cars, and the buzz of playing a part in the smooth running of our client's wedding day.

We strive to provide a professional, high class service each and every time we go out - because while we do this regularly we also understand that this is your one unique day and we have a responsibility to deliver on our promises. That's why we only undertake one wedding a day. We focus on the details so you can relax in our hands and in our cars.